Our historic hall
for your historic date

Here with us at Schloss Staufenberg and high above Durbach, we can't promise you an infinite range of venues — but our newly restored, historical hall is surely one of the most special locations you'll ever find for your wedding! This 2008 painstaking restoration was, down to the last detail, a true labor of love. You can book it for your wedding for a basic flat fee. Our flat rate includes set up, table linen, cleaning and staff costs. The amount of the flat rate depends on the date and size of your celebration.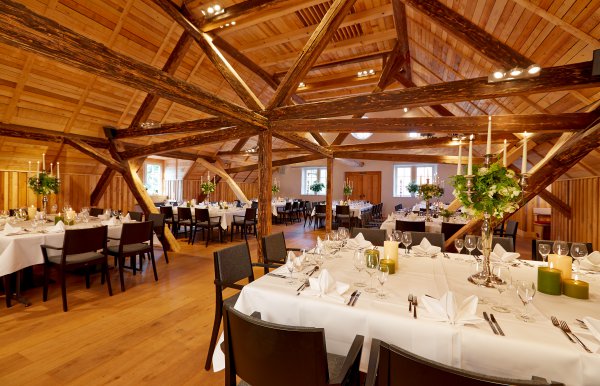 The historical hall can hold up to 120 persons. That number is reduced should you require a stage in the room. Thanks to the wine bar, there is space for dancing and a buffet even when fully occupied. Please talk to us directly should this be of interest.
Lounge atmosphere in our Linden Meadow
Our linden terrace is the perfect setting for a sparkling wine reception or for cake and coffee.